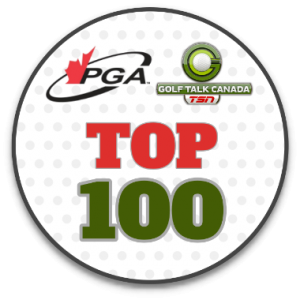 P.G.A. of Canada Top 100 rankings are out! Whistler Golf Club #24.
In partnership with Golf Talk Canada, the PGA of Canada is proud to unveil its Top 100 golf courses in Canada.
The PGA of Canada Top 100 presented by Golf Talk Canada features the top 50 public/resort and top 50 private venues across the country as voted on by PGA of Canada members.
"We are so excited to have our more than 3,600 PGA of Canada members from across the country come up with a list to call their own," said PGA of Canada CEO Kevin Thistle.
"We are proud to be selected the #24 Public/Resort Course in  Canada," said Alan Kristmanson, General Manager of the Whistler Golf Club. "We have always had great feedback on the golf course when we have hosted P.G.A. of B.C.  and  P.G.A. of Canada events. They love the greens, the playability and challenge and of course the views aren't bad either. We are able to provide a good test for professional play during tournament weeks while offering a friendly, walkable and fun experience to our guests during public play."
The Arnold Palmer design will re-open for play in May of 2020.
Click here for for the top 100 results.
For more information on the Whistler Golf Club visit www.whistlergolf.com